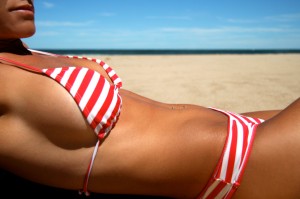 Breast Augmentation can be a wonderfully satisfying procedure, for many different reasons. It is often something that has been considered long and hard before the decision is taken to see a surgeon. There are many questions, and all potential patients need to be fully informed. You need to be sure that this is the right decision for you.
Technique
Hamish performs breast augmentation under general anaesthetic in Accredited Hospitals only, including the St Vincent's Hospital in East Melbourne and the Epworth Hospital in Richmond. Decisions regarding the type and position of the implants and the position of the incision will have been decided between Hamish and yourself prior to your admission to the Hospital.
Key points of this surgery are:
One night stay in hospital.
The operation takes between 1 to 1½ hours.
No drain tubes are usually used.
No stitches are visible (they are inside you, and dissolve).
The next day, after surgery you can:
Shower with your waterproof dressing on.
Wear a crop top bra (we provide these) in the post operative period until your swelling is gone and your breasts have settled into their new shape.
Patient care issues:
Your breasts may appear high and feel quite firm in the early postoperative period, and this settles over a matter of a week or two.
You can drive in 5-7 days.
You should be able to return to work in 1 to 2 weeks.
Things to consider
There are lots of choices to think about in breast augmentation surgery, and lots of public awareness, and in some cases, confusion about the operation and its effects. Having breast implants is a choice for a lifetime -it is a step that is very rarely undone – very few people have their implants taken out and left out. But many if not all patients will have further surgery at some stage of their lives to their implants – whether to change size or position, or to fix a problem.
You need to think about the shape and size you wish to be, and how this will affect your overall proportions. A good way to do this is to look for photos of breasts you like, and breasts you don't, and bring these to your consultation. This helps Hamish understand what you are after, and what type of look to try to achieve.
Breast augmentation is a popular procedure and it does not come without risks and possible complications.  It is extremely important to ensure you have the right information and choose the right surgeon before proceeding with your surgery. You will be informed of your choices and you should be aware of the risks and understand the possible complications that can occur, what can be done about these, and what down-time and costs may be involved if further surgery is needed.
Breast Augmentation can give a real boost in your self-esteem. It can put your body into a pleasing sense of proportion, and make fashion easier to wear. If you choose to have implants, then do this for you – not for someone else. A "bigger bust" does not guarantee a new life or an end to all personal problems. It will not save a marriage, or fix a struggling relationship, but a breast augmentation can improve your appearance and improve your self confidence, which can lead to many other things.
Frequently Asked Questions